The Smartest Phone
Published
In Atropos, your phone is one of your biggest assets. As well as being how you can communicate with your friends, it's also where you manage your missions, your inventory and even track your health. The phone comes with a large number of apps to aid Agi, and can even be modified by Marid to provide more features.
Please note that any images below are EXTREMELY in progress. We're only aiming for basic functionality for now, proper art and design will come in the future. Also note that the notification icons on the phone are not implemented at all – that's what the white squares at the top represent. Finally, in this universe people tend to use their phones a landscape orientation. Definitely an important feature relating to the backstory of the world and totally not an excuse to avoid the fact that otherwise two thirds of the screen would be unused because everyone uses a phone in portrait.
Ether Chat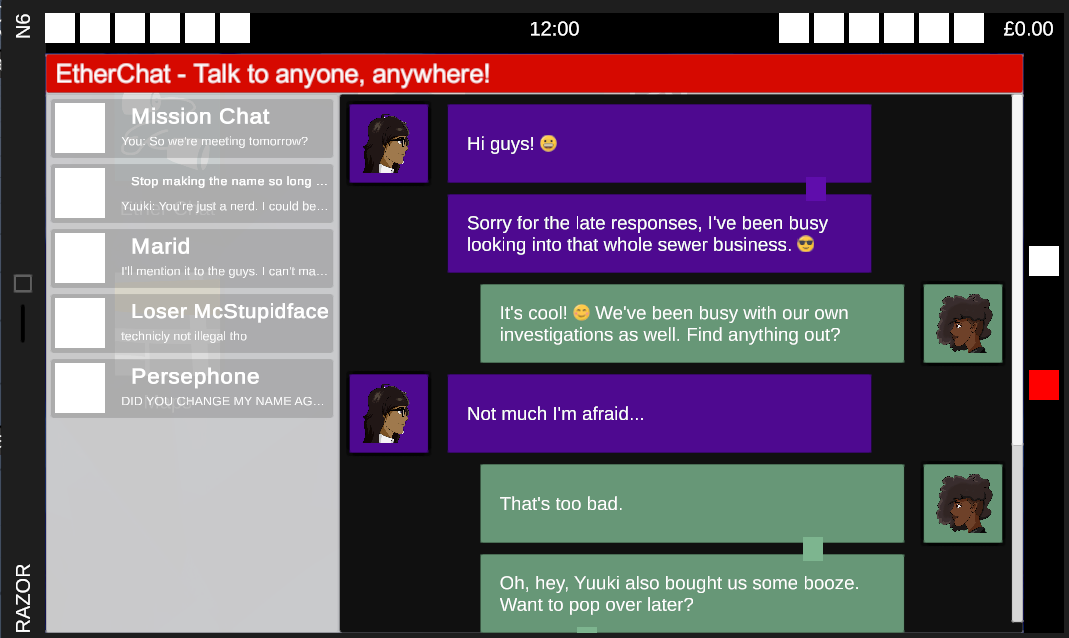 This is the messaging app. Here, you can talk to your friends, both individually and in groups. From a development standpoint, you can't exactly "talk" to them like you would a real person – we're not creating a true AI here – but rather you can ask your friends to hang out in the city centre, join you at the arcade or decide to adventure in the latest dungeon. You can also be part of groups chats, including the formal mission chat and the "Dankest Memez" chat that Yuuki inevitably makes. Friends will also talk to each other without your input, so feel free to lurk in the chats and know what everyone else is doing on particular days.
StuffTrackr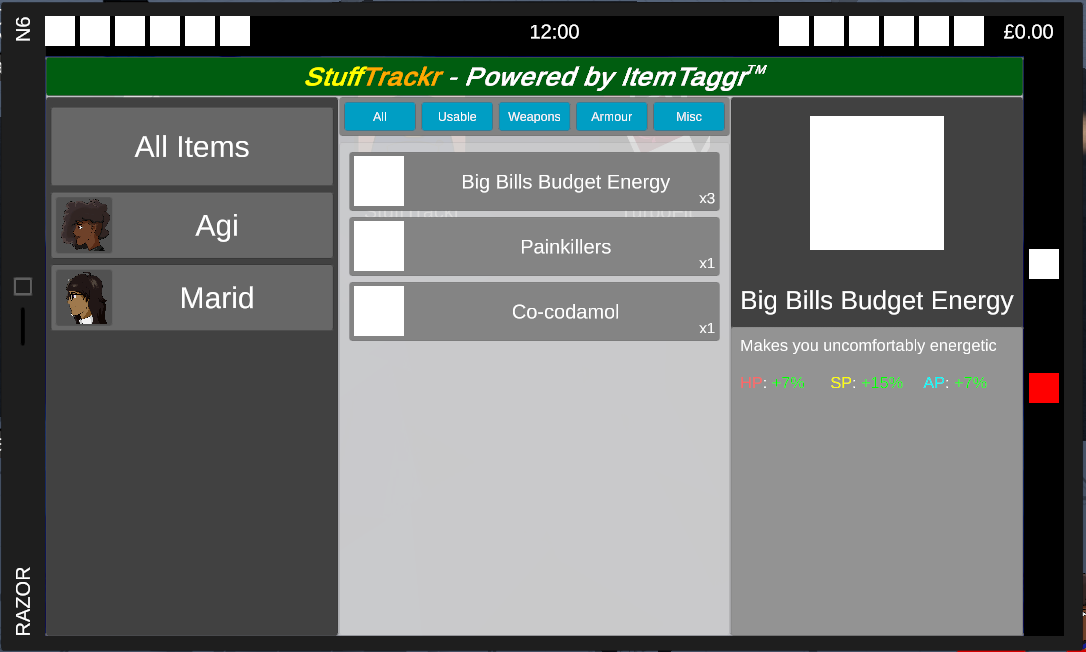 This app is your inventory manager. Here you can check what you have in your inventory, as well as manage equipment like weapons and armour. Finally, this is where you also use items outside of battle such as healing items. Pretty self explanatory.
TurboFit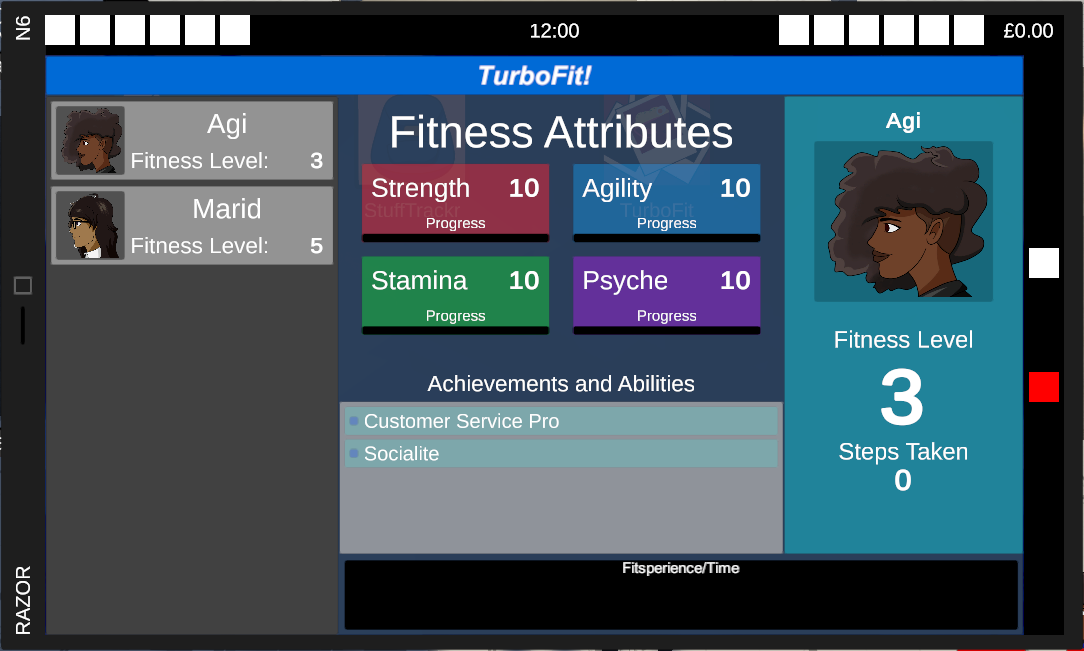 This is where you track your overall stats. As stated in the pre-alpha battle system post, you don't gain experience or levels in Atropos. At least, not directly. Instead, you have a number of "fitness attribute" stats that you can improve individually, and your level is then determined by these stats. You can see how far you're progressing on each stat via the yellow bar directly below them, with a complete bar increasing your stat point by one. Your stats even include a step counter, and since you're friends all share each other's data, you can see these stats change in real time.
Secondly is a list of abilities. These act as general global modifiers to your abilities. For example, you could become very proficient in using small melee weapons, granting you a permanent buff to hit rate and damage, or you could learn how to lockpick better and whatnot. All of this will be visible in TurboFit.
Finally you can also track the progression of your powers (not yet implemented). You will eventually be able to see progress trees showing your current powers and progress towards newer ones. This progress will improve mostly by using powers earlier on in the tree, but you will also generally improve all powers too over time. This is something that we will expand upon in a later post.
Cepetopedia
Your portable well of knowledge! Here is where all the information you collect on your journey will end up, including details on locations, characters and groups. This will also store things like notes shared between you and your friends, as well as those found in the environment.
Oh, by the way, "Cepet" is Javanese for 'Fast' or 'Quick'. Definitely no relation to that other online encyclopedia.
Maps
Maps is the default app that's open while your phone is minimized, acting as a minimap. When fully open, maps provides a…map…of the surrounding area, as well as allowing you to fast travel outside of dungeons. In cases like Manchester, the entire map will already be fully available to you, but in dungeons you'll need to progressively map out the area by exploring. Maps will also highlight points of interest such as shops, friends and enemies.
Camera and Gallery
Like any good phone, it's got to have a good camera. You can take pictures of friends and the environment, or use the spooky and totally realistic 'Third Person' mode to take pictures from anywhere, perfect for taking press shots to show off a game!… While this feature is a long way off, we plan to add your standard set of options such as Depth of Field, filters and character posing (Not just you, but any nearby friends too). And if we get it working, we'll also allow you to save pictures of a larger resolution than your screen in case you want to make a billboard of Oleander being disgusted by some pigeons. Finally, pictures taken here can also be used as your phone background should you wish!
TODO (The app)
Your typical to-do app. Here's where you track all the tasks you have to do, as well as any deadlines such as actually tackling a dungeon, or more benignly meeting up with a friend.
Save and Settings
Save allows you to save your game. Pretty self explanatory. Settings allows you to set your game settings, so that's also pretty self explanatory too. Settings will include phone settings though, so at least that probably still counts as a sort of in universe app.
Conclusion
No, conclusion isn't an app. Anyway, here's a brief look at some of the major features your phone can do. We may eventually add more apps, or otherwise change how they work, but as of writing these are the main apps and their purposes. We're excited to show you more soon, but we hope this new look into one of Atropos' core features provides some deeper insight into what the game is going to be like. We're still very excited to show you more, but given the scope of the game and the fact that we're just two people working full time, it might take a while before more substantial things are shown.
In any case, that's all for now!
– Dan & Kadan – Team Atropos